taken from BTi Magazine, March 2001 issue,
photographs reproduced courtesy of BTi.

On an approach road to Windsor Castle, a four-storey Georgian building is having a makeover courtesy of architect Edington Spink and Hyne. Number 6 Sheet Street, called Kingsbury House, will soon be ready for its new occupants, who it is hoped, will take kindly to the Georgian theme that the architect is trying to create.
"We are taking a classical concept and making it work with all the needs of a modern building," says Mark Curzon, project architect.

Works to the front façade have been carried out to match those depicted in old photographs. Inside, Time Construction is carrying out the majority of the works using plenty of timber.

At first sight it appears the timber skirting, cornices and columns are simply there to continue the Georgian theme. Admittedly they are, but they also conceal the wires that will power, light and feed data to the building. The only visible evidence of this will be the outlet points at designated spaces.


External works have been carried out to the facade. (click the picture above for a enlarged view)
Hiding behind the skirting boards is a system called three compartment trunking. Basically it is three rows that run parallel to the skirting board separated into compartments, each compartment holding a different cable. From the top down, the cables are for data, power and telephones. "Getting all the services in has been difficult, but surmountable," says Richard Croxford, managing director of Time Construction.

Richard Croxford, MD at Time Construction (above left), next to project architect Mark Curzon on the first floor.

For future maintenance to the cables, carpenters from Time have carefully blended in access panels at set locations. Vertical involvement of cables is concealed in columns. On each 70sq m floor it appears no stone was left unturned. "Everything was in poor condition. We had to rip everything out until we were just left basically with the floor joists," says Mr Curzon. To create as much headroom and space as possible, each floor was moved upwards by as much as 700mm. As a result everything connected to the flooring needed altering.

Most disturbed by the floor movement was the buildings' plumbing, all of it has been replaced or reworked including the repositioning of radiators, an additional boiler, and bathrooms on each floor are being renovated and connected. Lighting comes in the form of 30 category 2 lights on each floor, all fitted with fire hoods and bedded to be flush with the ceiling. The ceilings are made of a double layer of fire-lined plasterboard for further protection.
The original internal doors varied in size by up to 3m in height. Time Construction has brought all internal doorways to the same size and will fit 20 Windsor style doors in their place.
It is the first time that Edgington Spink & Hyne (ES&H) of Datchet, Berkshire, has worked with Heathrow firm Time Construction. On this contract ES&H has taken on the role of project manager as well as architect. Time Construction has carried out the majority of the work in the £500,000 total value contract, of which £10,000 has been used solely for improvements to the lift. The ropes have been replaced, buttons renewed and the internals decorated.
Colours of paint and carpets have been selected to fit the Georgian style. Skirting and cornices will be painted in a barley white eggshell with the remainder of the walls coated in a off-white called Palladium 12. Terracotta coloured carpets will grace the public areas and blue lagoon carpets will be in private areas.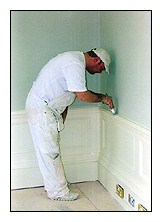 A decorator delicately applies paint to timber.
As it is close to the castle, the windows have to remain due to a conservation order. Planning permission had to be granted to add air conditioning to the roof that now supplies wall mounted outlets on each floor. There will also be six plasma screens for displays, satellite television and DVDs.
Edington Spink & Hyne started the design work in July last year, with work starting in October. It is due for completion this month, after which the new tenant a recruitment consultancy will move in.
Thomas Edgington was born in 1820 and moved to Windsor in 1852. He set up his architecture practice in Windsor in 1856, and carried out work at Windsor Castle. The firm claims it is the oldest established architecture practice in the UK. In 1907, Herbert Spink joined and was followed in 1955 by Reginald Hyne. Two years ago the company moved into project management as well as architecture.

Now based in Datchet, Berkshire it has 15 praticising architects and five partners. Primarily it covers the south east of England, with work ranging from new build to refurbishment. East Berkshire contains many examples of brick buildings that were built in the 1920s and 30s to Edgington Spink & Hyne designs.


A glass dome has been added over a skylight