Time Construction - Home Page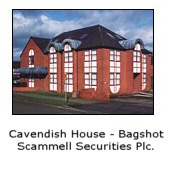 Time Construction was formed in 1993, from the amalgamation of a general building contractor and an interiors company with the aim of providing a comprehensive service for interior fitting out and/or refurbishment. Time Construction have consolidated on the initial concept and can provide a variety of services from complete "turnkey" contracts to design and specification or project management. They can also undertake more minor layout alterations and ongoing maintenance and repair. All work is undertaken with a view to relieving management of the burden of unfamiliar and complex operations.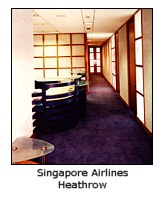 Time Construction have over the years developed a philosophy of encouraging clients to provide the best working environment for their premises, within budget restraints, by careful and innovative use of layout, colour, texture lighting and planting.
It is considered essential in achieving the best performance from management and staff that their working environment should reflect the dynamism and aspirations of the company and be interesting, attractive and comfortable. Visual interest is important.
Recent Projects include:
The Cabinet Office - Partitioning and Joinery works to two buildings in Whitehall.
Open University - Partitions, dry lining and suspended ceilings.
Singapore Airlines - Design and Build fitting out project including carpets and furniture.
Cavendish House (pictured above left) - Design and Build fitting out project including Air Conditioning and Electrics, carpets, and decorations.
B.O.C. Group - Partitioning and wall storage systems.
Occidental International Oil Inc. - Design Specification & Build, furniture, wall storage systems, carpets and ceilings.
Qatar Airways - Design and Build fit out works.
Heathrow Airport Limited - Fitting Out Projects.
"Once we had agreed their design, we gave Richard Croxford Interiors a date and left to them get on with it.

When we came to move in, everything was done. That's what they promised and that's what they delivered." Mike Fitzgerald, Executive Vice President, Occidental Oil.
"Since moving into our new International Head Quarters, Richard Croxford Interiors has continued to provide fast and efficient service to cater for our ongoing requirements in replanning and relocating our demountable partition and wall storage system." Bruce Luxon, British Oxygen
For further information please feel free to contact us at:
TIME CONSTRUCTION
Web www.timeconstruction.co.uk
Return to Top || Home Page || Designs || Contact Us
Web Site Developers - Infotex UK